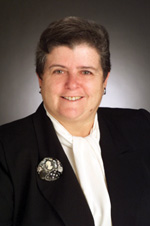 Passionate about making a difference, Anna Rappaport is striving to educate and call to action the public, policymakers and business to improve prospects for older Americans and a secure retirement. She is particularly committed to addressing women's issues and to advancing knowledge in these areas. Anna's effectiveness is well-documented. Click here to read some of her clients' feedback.
Leadership
For over 30 years, Anna Rappaport has been researching, writing about and shaping responses to the changing demographics of our society. Focusing on the future of benefits and implications of an aging workforce, she is widely recognized in the business, policy and retirement communities.
Expertise
An internationally recognized business leader, Anna Rappaport has been the recipient of many awards, recognizing her accomplishments as an actuary, a futurist, an executive and a trailblazer. Click here to read Anna's views on the future of work and retirement.
Please contact Anna to schedule a speech or group presentation.