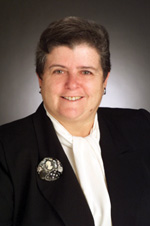 Anna Rappaport is an internationally recognized expert on the impact of change on retirement systems and workforce issues. Following a 28-year career with Mercer Human Resource Consulting, Anna established her own firm, specializing in strategies for better retirement systems. Prior to working with Mercer she spent the years from 1958-1976 in the life insurance industry. Anna has helped many organizations develop their strategies with regard to retirement benefits.  She is committed to improving America's retirement systems, with special focus on women's retirement security.  In her organizational participation, writing and speaking, she brings forward important issues to ensure that decision makers can act on the best available information, strongly driven by facts and thorough analysis.
Proven Leadership
Anna Rappaport was writing and studying the implications of our changing demographics for financial security systems long before there was a societal focus on this issue as the Boomers started to reach retirement age.  She published her first paper on social and demographic issues in 1975 and has been studying these issues ever since.  The topics she focuses on include the future of employee benefits, strategies for retirement security, implications of an aging workforce, phased retirement, post-retirement risk, Social Security and women's special retirement challenges. Recently she focused on issues related to achieving retirement security in a world dominated by defined contribution plans, and on the impact of long-term disability on retirement security. She has chaired the Society of Actuaries Committee on Post-Retirement Needs and Risks for 15 years, and has played a major role in the development a recognized research program devoted to better understanding and management of Post Retirement Risks.
Anna Rappaport was a delegate to the 1998 and 2002 National Summits on Retirement Savings. She has been a leader in the planning and management of several major research projects by the actuarial profession focused on enhancing retirement security in America. In 2007, she was appointed Senior Fellow on Pensions & Retirement by The Conference Board.   She is a frequent speaker and contributor to business and trade publications, and is the co-author of three books on the topics of demographics, retiree medical and retirement. For many years, she wrote a column on post-employment benefits for Employee Benefit Plan Review.
Anna Rappaport is a Fellow of the Society of Actuaries, a member of the American Academy of Actuaries and holds a Master's Degree in Business Administration from the University of Chicago.
Awards
Workers in Employee Benefits named her Employee Benefits Professional of the Decade in connection with their 10th anniversary.
Business Insurance selected her as one of the top 100 women in Benefits and Insurance in October 2000.
In March 2003, Anna received the Illinois State Treasurer's Woman to Woman Award as a Trailblazer in Public Policy.
Anna was the recipient of the YWCA's Outstanding Achievement in Business Award in October 2003.
She received The Society of Actuaries John E. O'Connor Distinguished Service Award for 2003.
In October 2005, WISER awarded her a Heros Award for her contributions to furthering women's retirement security.
2013 Practitioner Thought Leadership Award from the Retirement Income Industry Association – More information: Retirement Income Industry Association 2013 Practitioner Thought Leadership Award.  "Insights to Support Better Retirement Planning: Implications of and Key Findings from Recent Society of Actuaries Research" – Published in Retirement Management Journal
Won award in 2013 Essay Contest sponsored by the Society of Actuaries Pension Section – Title of Essay: "Measuring Success to Improve Long-term Economic Security when DC Plans are Primary," to be published in the SOA Pension Section News
Organizational Participation
Anna Rappaport has participated in many organizations, committees and Boards.
Society of Actuaries – Served as President of the Society of Actuaries in 1997-98.  Anna completed 50 years as a Fellow of the Society of Actuaries in 2013.   She has chaired the Committee on Post-Retirement Needs and Risks since its inception, and has encouraged the actuarial profession to focus on post-retirement risks and work to improve the retirement system in America. The Committee has sponsored the 2001, 2003, 2005, 2007, 2009, 2011 and 2013 surveys on post-retirement risk, produced Managing Post-Retirement Risk and eleven Decision Briefs on Important retirement issues, conducted focus groups on how retirement assets are invested, produced two reports on misperceptions and public knowledge about retirement, and it is currently conducting several additional studies. She has been actively involved in the Living to 100 project for its more than ten years, and has participated as an author, moderator and member of the committee for the four symposia which are part of this effort. She has been a regular presenter at SOA meetings. She was a member of the Retirement 20/20 Advisory Panel. Retirement 20/20 is a project to focus on the future of retirement systems. She has written many papers and articles for SOA publications.
National Academy of Social Insurance – Served two terms on the NASI Board with Board service ending in 2008, she has spoken at NASI conferences. NASI provides a multi-disciplinary focus on major social insurance issues. It sponsors research, public information, education and conferences. NASI provides a resource for the press on social insurance. Served as Chair of Membership Committee in 2006-2007,
Pension Research Council – Currently serves on the Advisory Board of the Pension Research Council located within the Wharton School at the University of Pennsylvania. She co-authored three books whose publication was sponsored by the Pension Research Council.  She has written several papers for the Pension Research Council, and they are  included as chapters in their books.
WISER – Currently serves on the Board of WISER.  She has chaired the Consumer Education Committee of the Actuarial Foundation which has partnered with WISER in the development of important educational materials for women on key retirement issues. She was very involved in the development of these resources: Making Your Money Last a Lifetime and Seven Life-Defining Financial Decisions.
ERISA Advisory Council – Advisory group appointed by the U.S. Department of Labor. She served a three year term from 2010-2012 representing actuarial consulting. Each member is appointed to a slot designated by the DOL. Served as Issue Chair for Privacy and Security topic in 2011.  Served as Issue Vice Chair for Managing Disability Risks in an Era of Individual Responsibility in 2012.
Actuarial Foundation – Appointed as Trustee Emeritus in 2007, and continues to serve on Consumer Financial Education Committee. Previously served on the Board of the Actuarial Foundation and was first chair of its Consumer Education Committee. In 2007, Anna Rappaport was the lead speaker and played a major role in the Joint Task Force's symposium "Women at Risk: Timing, Financing and Coping with Retirement" (see Actuarial Foundation Website)
American Academy of Actuaries – Previously served on the Board, task forces, and several committees of the Academy. This organization works in partnership with the SOA on many of the post-retirement risk issues and has been instrumental in bringing the major work of the Committee on Post-Retirement Needs and Risks to the U.S. Congress.
The Chicago Network – Member of the Chicago Network, an organization of very senior professional women in the Chicago area.
Task Force on Issues Affecting women as They Are – Active member of the task force.  She has assisted the task force with information on actuarial and pension issues, and has given many presentations at task force meetings.
Employee Benefits Research Institute (EBRI) – Anna Rappaport is a fellow of the institute, a major source of employee benefit and pension research.
Wider Opportunities for Women (WOW) – served on the National Advisory Board to the Elder Economic Security Initiative
Retirement Income Industry Association (RIIA) – designated Special Advisor to the Board in 2009.